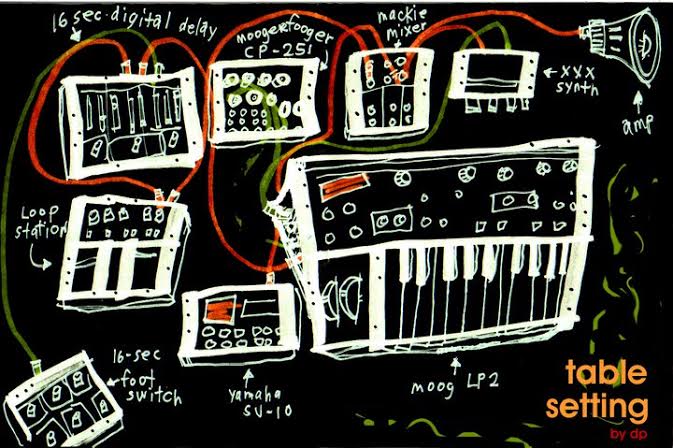 DILATING NEXUS series part V of V
August 30th, 2014
Mark Making
2510 North Chamberlain Ave.
7pm
$5-10 (sliding scale)
On the evening of February 15th 2013, Chattanooga lost its greatest artist, musician, storyteller, improviser, educator, and cultural/mystical icon DENNIS J. PALMER (of the Shaking Ray Levis and Shaking Ray Levi Society). Upon his passing, among his numerous musical instruments, an RC-30 "LoopStation" was discovered by Palmer's lifelong artistic collaborator and friend Bob Stagner. This small box contained over an hours worth of concise sound loops that Palmer created to make use of in an upcoming Shaking Ray Levis performance.
For the fifth and final installment of the DILATING NEXUS series, we have hand-selected some of the most forward-looking artists from Chattanooga and beyond to make use of Palmer's unreleased "samples" as the sonic source material for their work. Local visual artists of equal caliber have also been summoned to create works that are inspired by and/or make use of Palmer's unique visual world. Their images will be projected simultaneously in conjunction with each performance. Each participant has been deeply affected/impacted by Palmer's personal vision, legacy, and friendship in various ways.
SOUL IN A BOX will feature the following:
Audio:
AETHER JAG (Baltimore)
BABY MAGIC
EV MHIR
FRANK PAHL (Detroit)
GUEST ROOM
PROPHETS & KINGS
LOVE, EXECUTION STYLE
NOWS (Atlanta)
RED OKRA KING
RICK WEAVER (Baltimore)
SEGAWORMS
Visual:
ASHER LOVE
ERNIE PAIK
MELISSA HOESMAN JOHNSON
WADSWORTH LONGFELLOW
Additionally:
the ONE-AND-ONLY Tom Landis will present an opening ceremonial invocation, TIKI RAY'S will turn wine into "whiskey", and a "brand-new-never-been-HEARD-before" message from Palmer himself will be transmitted at the conclusion of the evening.